Sponsored: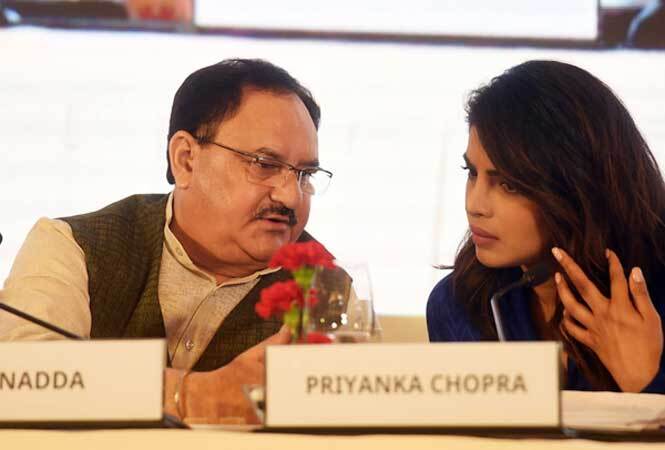 Union Health Minister
JP Nadda
with Priyanka Chopra at the Partners' Forum 2018
'Whether it is Bollywood or Hollywood, there are only a few roles for women that are amazing'
In a recent article, Priyanka revealed that she lost a part in a movie last year because of her skin colour. While the article was doing the rounds on social media, the actress clarified that the point she wanted to address was how women are "put in the box" all the time, whether it is in India or elsewhere. She said, "What I was trying to say is that women are put in the box all the time. In this case, they wanted someone with a different physicality and that was what I was told and then the interpretation was that they wanted someone from a different race and I didn't understand that. I was affected by that a little bit. It has happened a bunch of times." The problem, she said, is that the number of good lead roles for an actress are still very less. "Whether it is Bollywood or Hollywood, there are a few roles for women that are just amazing. You know, leading parts that will excite women, so whenever there are such roles, women try and get those, which makes it easier for a producer or a studio to say, 'You know, if you won't settle at the price that we want to give you, we will get somebody else', because there are so many people who want that. There are not enough opportunities for women. Until we create those opportunities, people are either going to tell me that I am of the wrong skin colour or they'll ask me to do the film for one per cent of what the hero is getting, because, 'I am sorry, par aise hi toh picture banti hai,' which I was told until last year. It still happens and it will continue to happen, but the thing is that I have the ability to talk about it. There are people who would stand next to me and say, 'Yeah, that is happening and it is alright to talk about it," said Priyanka.
Sponsored: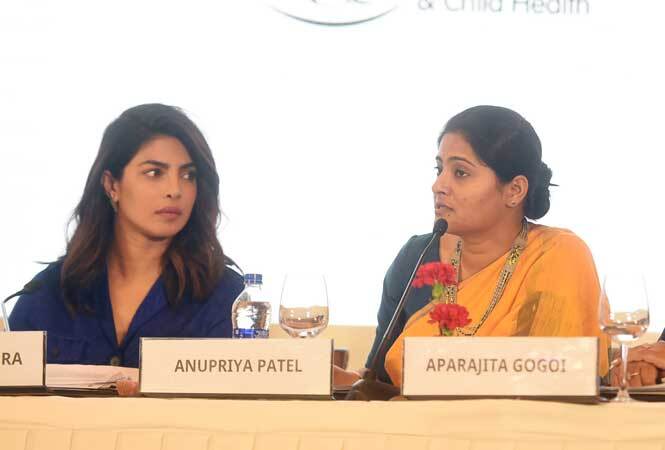 Priyanka Chopra with Anupriya Patel, Minister of State, Health and Family Welfare
'At the Emmy Awards, we were very excited that we were six South Asians together'
How South Asians are now visible in America at prominent positions has been a topic of discussion for some time. From Mindy Kaling to Riz Ahmed, the examples are many. Priyanka says that she has never considered getting recognition in some other country an achievement. "As an actor, I want to be the best that I can be. The fact that I am working in another country or getting recognition there is not my achievement. My achievement is that people know me through my work. I was at the Emmys when Riz Ahmed won his Emmy for lead actor in a limited series. We were all standing and excitedly talking about how there were six South Asians at the Emmys that year (2017). Five years ago, there must have been only two. Mindy Kaling once said in one of her interviews that there was never a part that really came to her. She had to write the parts that came to her. Main writer bani nahi hoon abhi tak, but I am someone who has really dug my feet in when I have gone there on behalf of the South Asian community," said Priyanka.
Sponsored: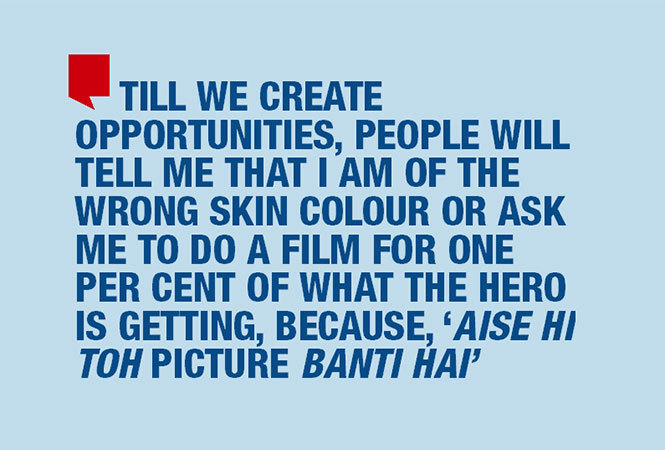 'I hope that in my lifetime, I get to see a female-led film break box office records'
Be it as part of the film industry as an actor and producer, or as the Goodwill Ambassador of UNICEF, Priyanka has always volunteered for equal rights for women and has spoken about the gender pay gap, which she said isn't just the problem of Bollywood and Hollywood. "This is a global problem – women are second class citizens. We are living in a patriarchal world, whether it is in America or India. I hope that in my lifetime, I get to see that a female-led film has broken the number records, which Wonder Woman did in 2017. We finally had a woman superhero film, directed by a female and it earned big money in the global entertainment industry. I hope that in my lifetime, I can see more movies like that. That will change the mindset of the society in general – where you can accept a woman as a hero, where it's OK for a boy to say I want to be like her. Like I have had little boys coming to me and say that to me about Quantico, that I want to fight like Alex Parrish. It's so amazing to play a character that affects a unisex mindset. Now that is a movement we need to see," said Priyanka, who made it to the list of world's highest paid TV actresses in 2017. "I don't like to speak about money and the specifics, but I think I need to make this point – check the list of male and female actors in that list, and check the income disparity between number one female and number one male. It is the same medium, but still that disparity. So, I am not going to say 'Yay! I am a part of that international list.' That is not my aim," she said.
Sponsored: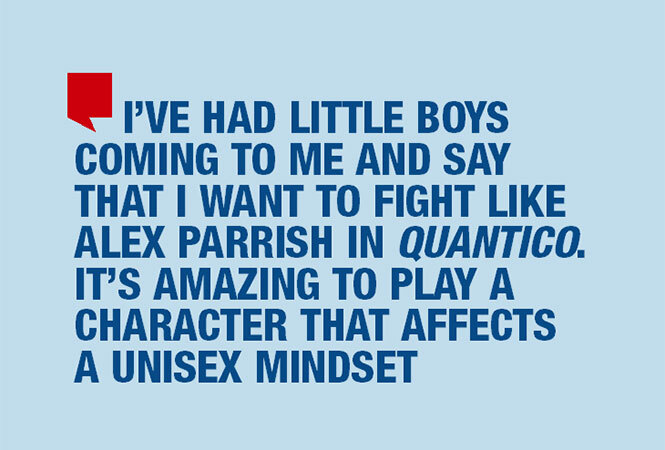 'My father told me not to be afraid to have an opinion
Priyanka has been meeting women in small villages and towns across the world, creating awareness on issues. Talking about her experiences, she said, "I have been working for a decade or so as a Goodwill Ambassador and the most incredible thing for me is to meet these women across the world and realise the tenacity and confidence these girls have, despite dealing with different issues in their lives – issues like child marriage, displacement and different kinds of abuse. I go to a refugee camp or to a small village and meet girls not getting opportunities, but still many of them do end up becoming community leaders because they have support from their communities."
Talking about restrictions that girls often have to face, Priyanka said, "We often restrict our girls and they are often asked, 'Tum kahan gayi thi?' Does anyone ask boys this? Why we don't ask boys is because it is believed that guys are free, they can do anything. Girls don't feel empowered enough by the men around them, confident enough that they can achieve their dreams." She added that she was raised to be an opinionated girl. "I come from a very privileged background, and by privilege I don't mean wealth, I mean that my parents asked my opinion. I was raised to be an opinionated girl. My father told me, 'Don't be afraid to have an opinion, and if you do, raise it, say it'. I was raised as a thinking person. I'm privileged, all of us sitting here are privileged because we have roofs on our heads, we have food that we can eat, we have the ability to go to school, we have the ability to make our own choices and our own decisions. When we are that privileged, it is our social responsibility, it is your social duty to make a difference to someone's life, somehow, somewhere," she said.
Sponsored: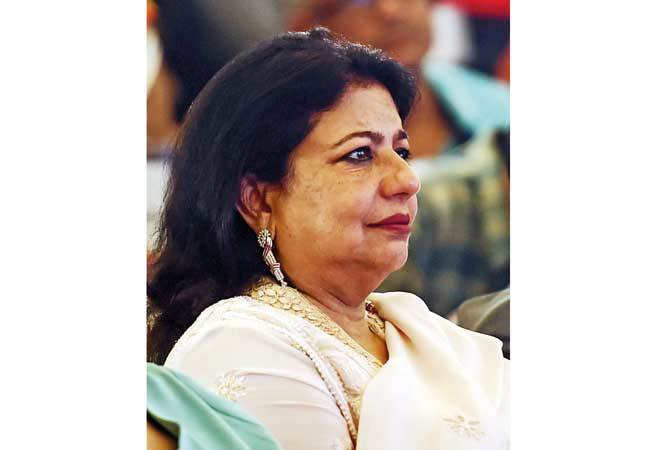 Madhu Chopra
Sponsored: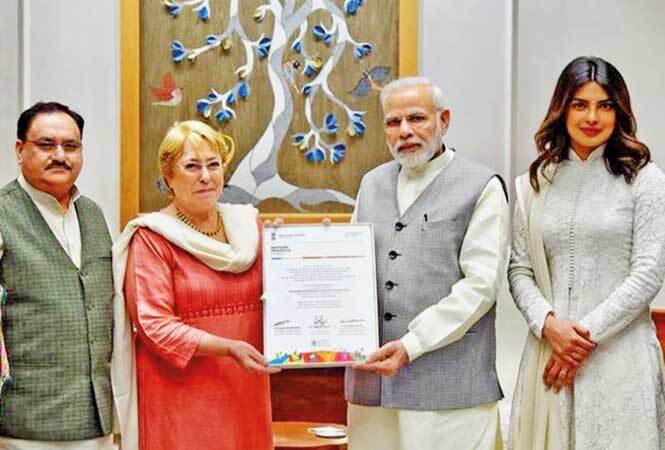 Priyanka also met Prime Minister Narendra Modi during her Delhi visit, along with Union Health Minister JP Nadda & Michelle Bachelet, former president of Chile and Incoming Chair of PMNCH (Partnership for Maternal, Newborn & Child Health)
Source : https://timesofindia.indiatimes.com/entertainment/events/delhi/priyanka-chopra-my-father-told-me-to-not-be-afraid-of-having-and-raising-an-opinion/articleshow/63716786.cms