OKC Thunder superstar Russell Westbrook is among the most active NBA players off the court when it comes to his philanthropic efforts. His Why Not? Foundation is constantly running events to benefit both his native Los Angeles and his in-season home in Oklahoma City.
Recently, Thunderous Intentions noted another "Why Not?" pop-up comedy show occurring on July 11th. Westbrook will be hosting with longtime friend comic Demetrius Deason. It's one of numerous comedy shows the pair have mounted over the years.
<\/script>"}" data-ad-type="connatix_inline_nba__desktop__tablet" data-ad-vendor="connatix">
Likewise, Westbrook has run a yearly bowling event (Why Not Bowl?) for charity with the most recent occurring on April 9 of this year.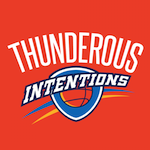 Want your voice heard? Join the Thunderous Intentions team!
Write for us!
Each year like clockwork Westbrook, his family and teammates can be seen in OKC during Thanksgiving and the Christmas season hosting events where they offer meals or send families home with gifts for the holidays.
From Westbrook's Why Not? Foundation main website the mission statement is made clear regarding how Westbrook endeavors to use his celebrity to help others – and specifically children:
The mission of the Russell Westbrook Why Not? Foundation is to inspire the lives of children, empower them to ask "Why Not?" and teach them to never give up.

The foundation works to help children that are facing hardships of any kind and when faced with that adversity fight to succeed and to never give up.
Even his clothing line Honor the Gift has natural ties into many of his philanthropic efforts. The most recent effort finds Westbrook partnering with the Advisory Board of Crystals with specially designed t-shirts from his line. 
RELATED PRODUCT
TAILGATE MEN'S OKLAHOMA CITY LOUD CITY T-SHIRT
>
The ABC post from their Instagram account best defines their mission:
> View this post on Instagram

Today in the Paris edition @wwd

A post shared by Advisory Board Crystals (@advisoryboardcrystals) on
T-shirt charitable project:
Westbrook posted on his Instagram account two separate posts on the collaborative effort he undertook with ABC targeted to benefit the LA school Inner City Arts. The school specializes in arts education specifically for children from low-income families and 100 percent of the profits from the two t-shirts will go to the school.
https://www.instagram.com/p/ByIZy_MBKsJ/?utm_source=ig_web_copy_link
Both sites note the shirt is sold out (no word yet on whether additional runs of the shirt are in production).
\n\t
Source : https://thunderousintentions.com/2019/06/02/okc-thunder-russell-westbrook-philanthropic-venture/
loading...