"On a Saturday morning, people everywhere in Kolkata are discussing the bad air quality that is even poorer than New Delhi. This is a public health emergency," said Anumita Roy Chowdhury, executive director, Centre for Science and Environment. She was speaking at a day-long workshop on 'Green City Mission: Opportunities and Agenda for Action' organized by the Centre for Science and Environment and the Bengal chapter of Institute of Town Planners, India (ITPI).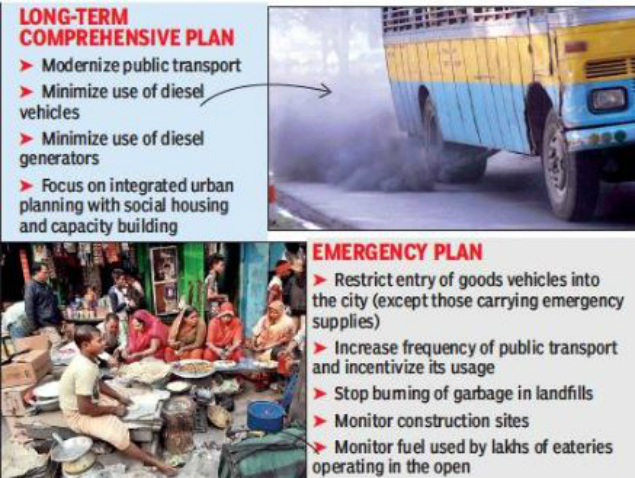 "This condition is the result of a combination of climatic and human factors. In winter, the cooler air is trapped under the warm air, which forms a cover. The pollutants released cannot self-ventilate and get trapped. Add to it pollution due to external reasons like emissions and fumes from lakhs of roadside eateries and polluting vehicles," said Roy Chowdhury.
Kolkata has been feeling breathless with the concentration of PM2.5, ultrafine particles in the air that enter the lungs and the blood stream unhindered, hovering between 450µg/m3 and 500µg/ m3 over the past few days. Children who step out in the morning for school or other outdoor activities have been suffering the most with many of them wearing breathing masks whenever they go outside.
"The lack of integrated urban planning is adding to the poor air quality level," said K K Joadder, former chief planner with the ministry of housing and urban affairs.
Source : https://timesofindia.indiatimes.com/city/kolkata/pollution-in-kolkata-a-public-health-emergency-feels-green-panel/articleshow/67008030.cms