The Australian dance-pop institution Kylie Minogue does what she exists to do—coo high and flighty over disco thrump—across her new album, Golden. But on the title track, her coo forms a little, coyote-howl-like pattern that listeners will recognize as being lifted from somewhere else. It's Ennio Morricone's theme from The Good, the Bad, and the Ugly, repurposed for the gay bar.
This is a camp move, but also a statement of purpose. Minogue's 14th studio album portrays her as a rodeo queen toting a bedazzled six-string (literally: check that photo above). Partly recorded in Nashville, Golden is dusted with fingerpicked guitars and double-time hoedown refrains and liberal use of the word whoop. But its version of rural Americana is knowingly filtered and fetishized from afar, much like a spaghetti Western, that genre of Italian-made cowboy flicks of which The Good, the Bad, and the Ugly is sheriff.
---
>
Related Story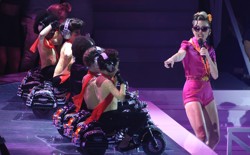 >
For Women Seeking Pop Hits Lately, It's a Climb
---
In this, Minogue makes plain what a lot of pop stars clumsily try to hide when they undertake the most tedious of midcareer rituals: the country phase. In the past few years, Lady Gaga doffed a pink cowboy hat for >Joanne, Kesha and Miley Cyrus called upon Dolly Parton for >Rainbow and Younger Now, respectively, and Justin Timberlake spackled banjo upon breakbeats for >Man of the Woods. Such efforts on some level approach country music as a well of authenticity artists can drink from to banish the plastic glint of pop. The irony is that their resulting rawhide vest of an album comes off like something from a Halloween megastore.
Country itself is a genre perpetually in identity crisis, and not quite as hostile to interlopers as stereotypes about it might imply. No.1 on Billboard's country-songs chart right now is a breezy, drum-machine-laden duet between the twangy bros of Florida Georgia Line and Bebe Rexha, typically a hook provider on electronic-dance songs. No. 2 is "Heaven" by newcomer Kane Brown, who unlike most country stars is a person of color, and as with many reigning country stars is unafraid of borrowing from modern R&B. Even off the radio, critical obsessions like Kacey Musgraves—she of crystalline voice and slight political edge—disregard ideas of genre purity. Her great new album, Golden Hour (coincidentally released a week before Minogue's similarly-hued title), features vocoder and fake drums, which don't break the feeling of genuine, down-home communion.
Given that permeability, the financial temptation for pop stars to head to Nashville is clear. Country is nearly tied for the most popular radio-music format in the nation, and the genre's fans still buy physical albums, which is more lucrative for creators than having them streamed. But for the likes of Cyrus and Timberlake, going rustic, for whatever reason, can compromise their songwriting instincts. Which isn't country at all. Whether the example is Johnny Cash or Sam Hunt, history shows that to sell a tale of heartbreak and homecoming with mandolin and yeehaws you still need to blend familiarity and novelty in a pleasing way. You still need to make it pop, the noun and the verb.
Source : https://www.theatlantic.com/entertainment/archive/2018/04/kylie-minogue-golden-review-nashville-country/557327/